The Studio
Established in Reims in the seventeenth century, the Simon-Marq master glassmaking studio perpetuates a tradition of excellence passed on from generation to generation.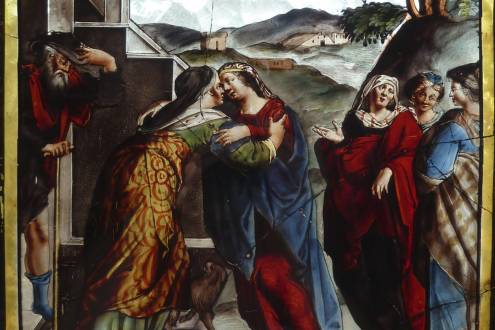 Since 1640
Although the corporation masterpiece that Pierre Simon made in 1640 marked the beginning of a long family tradition of master glassmakers in Reims, the Atelier Simon-Marq developed the art of stained glass in the 1950s by placing its expertise at the service of major contemporary artists. Marc Chagall, Joan Miró, Jacques Villon and Roger Bissière brought soul and colour into a number of religious buildings, and were later joined by Maria-Helena Vieira da Silva, Raoul Ubac, François Rouan, David Tremlett, Jean-Paul Agosti and Hans Erni.
A precious repository
From classical to highly original designs, the Atelier Simon-Marq is happy to undertake stained glass projects requiring the highest possible standards of excellence. We have at our disposal a unique repository of colour samples comprising a total of 1,100 different shades. The Saint-Just glass factory supplies us with a large number of hand-blown glass panes, and for twelve generations this incomparable repository has supplied our craftsmen as they apply both traditional and contemporary stained-glass making techniques.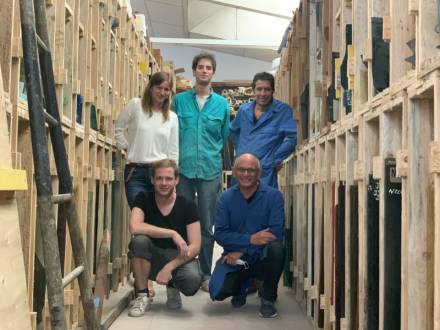 A driving force
Business leaders Philippe Varin and Pierre-Emmanuel Taittinger are passionate about heritage conservation in the Champagne region and were thus naturally drawn to the Atelier Simon-Marq. In partnership with members of the Simon family, they have taken over this prestigious institution in order to open up new horizons. Headed by Marine Rondeau, the Atelier can rely on a skilled team of craftsmen under the leadership of Bruno Paupette. The company thus carries on its twofold ancestral mission: to conserve ancient stained glass windows and to fill spaces with transcendent colour and light.
Sacré-Cœur
In January 2021, the Simon-Marq studio moved into the Sacré-Cœur Church in Reims. Here, starting in the autumn of 2021, visitors will be able to discover the world of stained glass.